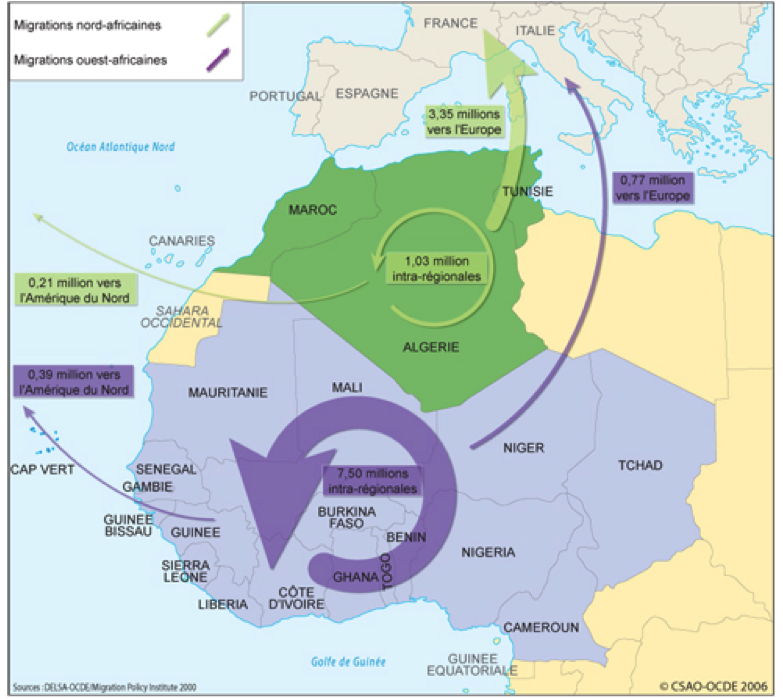 This ECOWAS advocacy campaign is an initiative of four organizations of West African civil society: specifically, Alternative Citizen Spaces of Niger (Alternative Espaces Citoyens, or AEC), The Malian Association for Deportees (l'Association Malienne des Expulsés, or AME), the Association for Repatriates of Central Africa in Mali ( l'Association pour les Rapatriés d'Afrique Centrale au Mali, or ARACEM), the Convention of Ivoirian Civil Society (la Convention de la Société Civile Ivoirienne, or CSCI), and the Network of Migration and Development of Senegal (le Réseau Migration et Développement, or RE.MI.DEV).
This campaign, considering its effective mobilization of West African civil society organizations, will allow for the promotion of ECOWAS protocol regarding the free movement of persons. It will follow public opinion and populations – notably migrants, nomads, forces of defense and security, organizations for civil society, media. It also engages in social mobilization and advocacy for governments and parliaments of Mali, Ivory Coast, Niger, and Senegal to effectively implement of the protocol of ECOWAS of free movement and its other articles—which historically have not been fully implemented.
More than thirty years after the fifteen member states of the ECOWAS signed the protocol on the free movement of persons and residency rights, regional free circulation still encounters serious setbacks. The hopes set down in the protocol have not been fully met because of the gap between the adoption of these articles and their real-world application. As soon as they are in transition, both citizens and non-citizens of the ECOWAS receive no protection against the violation of their fundamental rights.
The free movement of persons and good is far from a reality. Crossing borders is subject to illegal charges, discriminatory practices, arbitrary violence and arbitrary detentions perpetrated by agents in the immigration service or by security agents ignorant of the contents of the protocols of ECOWAS on free circulation.
In addition, under political pressure from the European Union, many West African states have had to apply policies against migrants which contradict the objectives of the ECOWAS and which are in flagrant violation of the Convention of the United Nations on the rights of migrant workers and the members of their families. Today, it is urgent that citizens intervene in the debate on the definition of migrant politics.
Le lancement de cette campagne pour la liberté de circulation dans l'espace CEDEAO est un The initiation of this campaign for free movement in the ECOWAS space is a call to civil mobilization and to action so that these rights becomes a reality in practice. The support of partners from France, Mauritania, Morocco, Algeria and Tunisia is required for the success of this ECOWAS campaign.
This group of civil society organizations has the following goals: of improving effective access of migrants to their rights, of changing the views on migrants and on migration, of advocating for a better institutional awareness of migrants rights, and of ensuring that those rights are applied in practice.
[translated from the French by Sophie Richardson]